Sizing Your Pet - Crate Sizing

It is imperative that any pet travelling domestically or internationally is size correctly to the travel container, too small and your run the risk of making the pet very uncomfortable, sore and stiff on arrival. In saying this all airlines are very attuned to the welfare of the pets travelling and the domestic/ international regulations state that a pet must be able to stand in a natural standing position, turn around and lay comfortably. Should your pet not meet this requirement the airlines will not uplift your pet for travel. It is for this reason that all pet transport companies will labour the importance of getting the dimensions correct.
In addition to this domestic air freight can be; and international air freight is charged by the volumetric area of the container other than the static weight, therefore correctly measuring your pet provides peace of mind the correct travel container is selected for their comfort but also it averts the issue of paying for freight not necessarily used. The following is a basic guide used throughout the industry to correctly size your pet/s.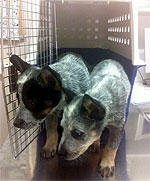 APAT use only the best travel containers be they constructed from Plastic / metal / or timber. Each manufacturer has been in the industry for many years and have refined their products to be the leading in their industry.
To size the pet/s:

1
Length in cm
=
Nose to root of tail – tail excluded
2
Height in cm
=
Floor to top of head while standing
3
Width in cm
=
At the widest point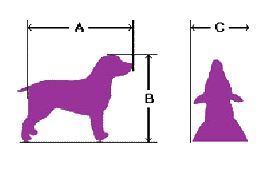 Once the measurements have been made please use the following formula to calculate the best possible option for your four legged friend.
To size the pet/s:

Length
=
A + 1/2 of B
Width
=
C x 2 (Twice shoulder width)
Height
=
B + 1/2 of C
Please feel free to click on our enquiry link to obtain an accurate quotation of your pets travel.